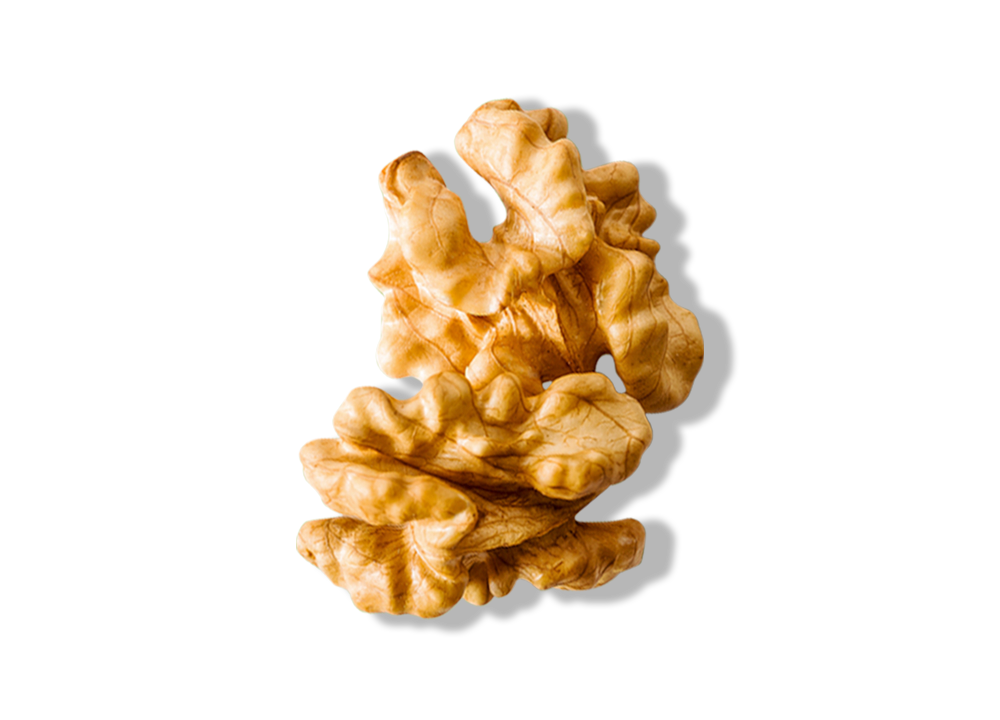 Walnut
Rich in omega 3&6 fatty acids.
Low in carbohydrates – most of which consist of fibre.
They contain 65% fat and around 15% protein.
Lower chances of cardiovascular diseases and cancer prevention (phytosterols, gamma-to- copherol, omega 3 fatty acids and antioxidant polyphenols).
Better brain function due to monounsaturated fats, polyphenols and vitamin E.
| Nutrition Facts | Per 100 g |
| --- | --- |
| Energy | 2736kj/654kcal |
| Fat | 65,21g |
| Of which saturates | 6,126g |
| Carbohydrates | 13,71g |
| Of which sugars | 2,61g |
| Fibers | 6,7g |
| Protein | 15,23g |
| Sodium | 0,005g |
What if the brain just decided that it wanted to look like a walnut?
The brain was successful be- cause they both have a left and a right hemisphere and share some similar internal wrinkles. The truth is this correlation has not been scientifically proven (yet), but they still have many things in common (yes, they go together so well like Aries and Sagittarius) because walnuts contain high amounts of omega 3 fatty acids such as alpha-linolenic acid that promotes a healthy….. brain! Mind-blowing? Oh yes, indeed.
Check out this crazy thing about nature:
Try to visualise a walnut next to the human brain. How many similarities do you spot? Probably a plethora. The shape of the walnut is made by nature and inexplicably mimics the brain's form.