THE SIX TREASURES
Of Nature!
As Hippocrates said, we are what we eat. Let's see what happens by eating these WILD treasures.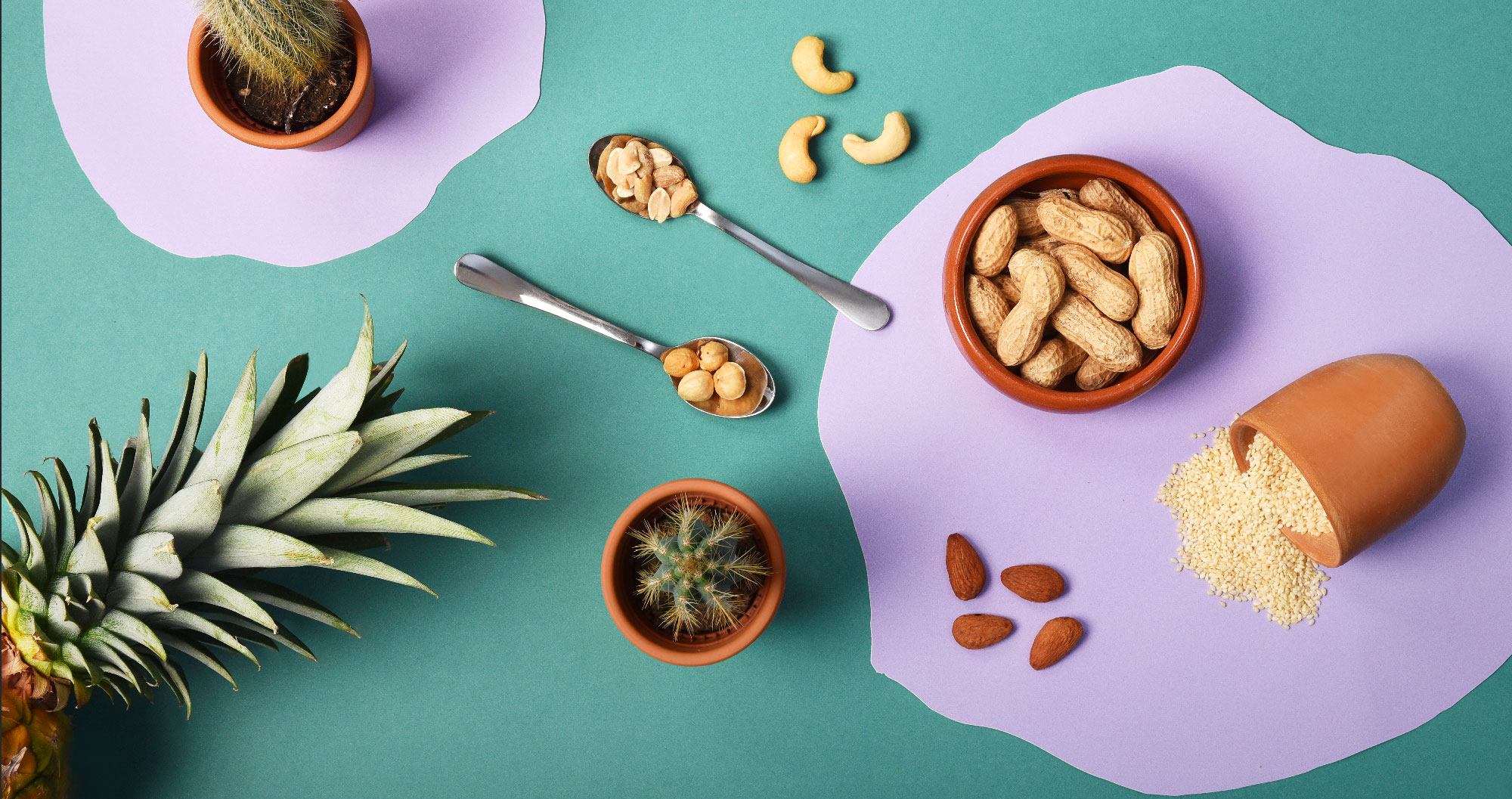 Sesame
Open Sesame" Did you too as a child go in front of store displays saying this magical quote? We still do! This quote from Ali Baba's tale is not accidental since Arabs always believed in the magical powers of sesame. Just like we do. In an even older reference, in an Assyrian myth, Gods drank sesame wine the day before they created the world…undoubtedly divine! Symbol of immortality, and a medicine, sesame has always been and still is the most adored source of energy for the humans and of course the key password to magically open any door! 
Peanut
Beneath the shell lies an old Wild story. In Genesis, Old Testament, peanuts are mentioned as precious gifts that were transferred from Canaan to Egypt by Jacob's sons. Being highly nutritious, peanuts are considered one of the few foods that even in small quantities can provide an abundance of beneficial components. So, make a gift to your wildest friend, yourself, showing him how much he means to you!
Almond
This miraculous super-food might have the most Wild symbolism. In some traditions, the almond tree is considered amongst the trees of life and it represents the cause, the source of all things. It symbolises the spring, the awakening and the resurrection. Even Plato, in Republic, considered almonds as the base of the citizen's diet.
Hazelnut
Hazelnuts have always had a well deserving place both in our list of Wild treasures and in our hearts. Imagine that in their long history, hazelnuts were considered to have mystical powers and healing properties. According to the Greek mythology, Hermes, son of Zeus, had a feathered wand made out of hazelnuts that helped wizards express their thoughts. It constituted a symbol of marriage, abundance and family fortune. Now, do you adore it Wildly more?
Cashew
Ιf you were invited for dinner by the ancient Greeks, Cashew nuts would definitely be the hero of the menu since they believed that their consumption not only strengthens our personal wisdom but also amplifies our mental and physical health. Cashews, apart from their overall positive impact on our health, improve our mood too. For a wild mood that lifts you off, dip your spoon into the cashew butter miracle!
Pistachio
Absolutely nutritious and rich in vitamins, it is good for our heart, reduces cholesterol and protects the health of our body. Especially for you wild soul who have intense daily activity, whether you are a student, athlete, worker, the manganese and magnesium it contains regulate the good functioning of your metabolism and help you have a better quality everyday life. After all, it is no coincidence that Alexander the Great himself singled it out. Are you saying that the secret of his success was "green gold"? Food for Thought…